Have you been looking for an automated author bio box to add to your blog posts? Check out the Starbox plugin – it's the author bio box for humans!
If you want to easily include an author bio box on your website, with social media icons, text and an image, then the Starbox plugin's perfect.
I came across the free Starbox WordPress plugin by Squirrly UK whilst searching for my ideal author bio box on PeasOnToast.
I found Starbox very easy to set up and love that it allows me to either include the author bio box automatically in every post, or to use a shortcode for specific posts. You can even adapt Starbox for each author bio if your website has several authors.
Starbox is regularly updated and has over 10,000 active installs, so it's fair to say that it's well used and trusted.
In this tutorial, you'll learn how to easily add an author bio box to each of your blog posts using the free Starbox plugin
Ok, let's start the tutorial…
1. go to the Plugins section in your WordPress dashboard, and click "Add new". Type "Starbox" into the Search Plugins field
2. click "Install Now" (where my screenshot shows "Active" in the top right)
3.  once installed, go to "Settings" in the WordPress dashboard, and select "Starbox"
This is where you'll choose Starbox's default settings
Step 1: choose where to include the Starbox author box on your website
you can choose whether Starbox author box is visible on posts and/or pages, or even included as part of your global blog feed. There's also a setting to include your Open Graph profile in the meta for each author's details.
Step 2: choose which of the six theme settings you'd like to use and where you'd like the author bio box to be placed on the post/page
TIP: don't worry if you see a draft post listed amongst your "Latest Posts" on the settings page. That's just a Starbox glitch – only published posts show on your live website.

here's the settings for the "Business" theme – the Business theme includes social media icons as well as a tab for your "About" section and a tab for your "Latest Posts".  This is the Starbox theme I'm currently using
the "Fancy" theme is the same as the Business theme, but has the social media icons beneath your image
the "Minimal" theme is the same as the Business theme but doesn't include a Latest Posts tab
the "Drop-Down" theme has your image and name with a drop-down arrow next to it revealing your author bio, social media links and latest posts
the "Topstar" and "Topstar-Round" themes show your image (in a square or a circle shape) and name. When you hover over your name, it reveals the social media icons
TIP: if you've already chosen in Step 1 to show Starbox on each post/page, then you don't need to use the shortcode option, unless you decide to also place Starbox in a widget
Step 3:  decide if you'd like to use a shortcode to place your Starbox author box in specific posts/pages or as a widget.
Step 4: click "Save Settings"
4. click "Go to User Settings" (this takes you to the Users, Your Profile section on your WordPress dashboard)
This is where you'll confirm/edit the settings for each author individually
5. for each author, scroll down from the top of the Profile screen, past the Personal Options section, towards the About Yourself section
Here's the plugin's additional "Starbox Settings for this Author section" where you can tailor Starbox for each author
Step 1: decide if you want to use Starbox for that particular author. If yes, then upload or confirm the current image for the author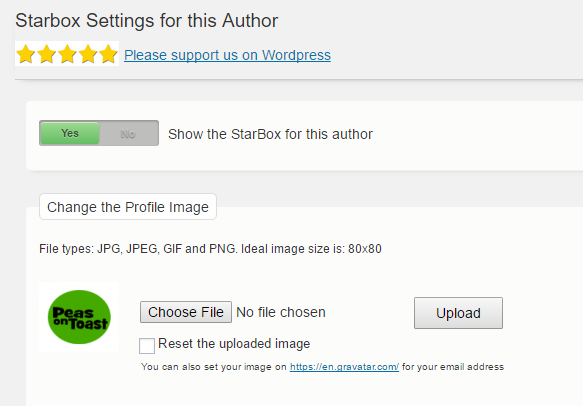 Step 2: confirm the author box position on the post/page and choose the Starbox theme. You can either leave the position and/or theme as "Default" to use the settings you chose in the "Settings" "Starbox" section above, or select a different theme specific to that author
Step 3: type in the text for that author's "About" section in the author bio box
Step 4: set up your social media Facebook and Twitter links, and decide if you'd like them to be "nofollow". Upgrade to Starbox Pro if you'd like other social media options as well as high priority support
Step 5: scroll to the bottom of the screen and select "update profile".
Repeat these steps for each author.
Now, your published posts/pages will have an author bio box wherever you selected.
Note:  this blog post is intended to be a general resource only.